Luca Curci talks with the artist Vincent Messelier during CONTEMPORARY VENICE – Architectures of Identities exhibition in Venice on April 2016. Vincent Messelier is born in Kortrijk, Belgium on 06/10/67. He started his first painting in May 2006. He is a completely self-taught artist, who is very passionate about his art. Vincent paints from his heart and soul with jazzy music on the background. Depending on the moment or his mood, some other music can inspire his work.
Luca Curci – Is it your first exhibition in Italy?
Vincent Messelier – No certainly not, I exhibited several times in Bari, Rome, Palermo, Verona, Naples…
L.C. – What is your artist direction? Are you interested in new media and new practises?
'Eiffeltower by night number one'V.M. – I have created my own style in paintings called Meridianism, I work with pallet knives and you always recognize vertical and horizontal stripes and lines, referring to the planets meridians. For my second line I blend my photo's and project it on an original painting or details of. I'm now also experimenting with video in combination with a professional music composer, not only as manager from the book Henrietta but also for my own art.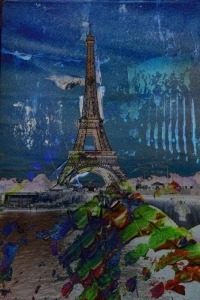 L.C. – Do you agree with our vision of art and what do you think about the theme of CONTEMPORARY VENICE – ARCHITECTURES OF IDENTITIES ?
V. M. – I like travelling and I love architecture, new and modern buildings, so I usually take pictures of them and make my artistic interpretation.
L.C. – In which way the artwork presented in our exhibition is connected with the theme of CONTEMPORARY VENICE – ARCHITECTURES OF IDENTITIES?
V.M. – I've been several times in Venice and I love its unique caracter. It has several artworks that inspired me.
L.C. – What do you think about the curatorial project?
V.M. – Your curatorial project is very various, I like the diversity.
L.C. – What do you think about our press office?
V.C. – Your staff is very professional.
L.C. – What do you think about It's LIQUID Group? Do you think it can represent an opportunity for artists?
V. C. – I'm sure that art is undergoing a worldwide renaissance and I would be glad to be part of this in Art history. Moving art and video as well as installations are new items in a viral world. It all goes very fast and there are many good artists in the world. It is not easy to be remarked and I thinks every social media and marketing is very important to survive as artist and make a living of his passion.
Article: (c) Source .itsliquid Venice Article: 'itsliquid .interview: vincent messelier' At .itsliquid Venice website.