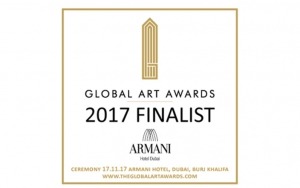 Tell us about your nominated art piece for the Global Art Awards?
I have subscribed for 2 artworks, The first artwork I choose is 'Supported from all over the world', it has been projected On a 60 level high building in New York on time square with 110 other international artists won a contest.
The second artwork is 'Grand Moskee Zahyed'. 14 artists were invited by H.E Sheikh Mohammed Bin Faisal Al Qassimi An artwork I exposed in Sarjah, digital print on Plexi, in 'The Ajman Palace'.
How does it make you feel that you are a nominee for the Global Art Awards?
In 2011, I was in Dubai for the first time and I still love and like it. I have had a project for a Five star Hotel (Auris Plaza) where I sold 17 artworks.
For me, this award would be a great honor and pleasure for my future career.
What are you looking forward to the most at the Global Art Awards Ceremony?
I won already several awards worldwide and I do not know what exactly to expect.I hope I can join the ceremony and be present, I really feel appreciated and honored.
How would you react if you win a Global Art Award at the Armani Dubai Burj Khalifa surrounded by international Press and the Elite from the Art World?
I would certainly be very honored and I'm sure it could or would be a big step in my career, although I've always known that quality is the result of hard work and nothing goes by itself.
I'm a hard passionate worker and believe in what I'm doing and this award would certainly be a huge support to go further in what I'm doing.
How would you describe yourself? And your artwork?
Passionate, hard worker and loving what I'm doing, hoping that I can mean something to my clients and go the extra mile to convince and satisfy.
My artwork (painting) is known as 'Meridianism', I work with pallet knives and you will always find Horizontal and Vertical stripes and lines, referring to the Meridians of the Globe.
What drives you?
Passion and daily luck, enjoying life, seeing simple things… and making an artwork of it.
What is your definition of art?
An Artist and his creations
'A relation between the creator and the admiror is the most complex and unexplanable that ever had existed. Without words, there is an incredible magnificent communication that reflects the inner passion between them.
The art you buy from an artist is not simply an object but is an investment, An investment in a piece of a heart and soul…
And even a piece of the creator's life, because this piece of art is not only created as result of hours of errors and experimentation, but also years of frustrations and moments of pure joy. Art is the most valuable way of communication, with knowing that the admiror and creator can live or understand it in a different way, knowing there is no right or wrong, only a strong powerfull connection.
This is art, touching people in their heart without wanting to hurt, doing big efforts to make people happy with the beauty of the passion and the power of imaginatioin.
This is my vision of art, the way I make it, right from my heart and soul.Art is my second skin!'
Where do you get your inspiration?
Everything I see, experience daily motivates me to work on. I try to transfer negative news into positive. There is to much negative news and this is why I made also my own 'feel good Gazette' to search for positive things, charity, but with concrete results. Please feel free to see my first edition.
My favorite Artist of all time is?
The artist I've known most is Dali, because of his special way of looking in and on to life
How do you deal with artist's block?
I don't understand what you mean with block… I don't know the feeling.
Where do you see your art going in ten years?
I hope working further on this tempo to get my reputation even stronger and better and living my passion like I do know. I want to work at least till I'm 90 years old so I have some time to realize.
Can you tell us what you have going on right now?
I'm working on a lot of things, exhibitions, started a clothing line (https://artofwhere.com/artists/vincentmesselier) See my Gazette, and working on future projects in Dubai and Abu Dhabi for total art hotel projects.
Can you tell us what your 'Before I Die' is?
I hope to live long enough to see my 9-year-old son grow up and maybe have grandchildren, continuing my passion like at the moment and working on my name and brand.
I know my artwork is finished when…?
I have no more paint
Best Commissioned artwork ever done was…?
it is never best commissioned but I'm happy, my most favorite artwork and not sold but famous is 'Nelson Mandela' Exhibited in Gaudi Museum, Vatican museum and Louvre.
Which are your favorite artists?
See before, Dali.
Best exhibition ever participated in…?
New York on Time Square digital on Highest Building with 'Supported from all over the world' see Gazette.
Greatest achievements so far…?
I'm very proud to say in my 6 years old career as professional, I have exposed more than 100 times all over and won more than 60 awards and was mentioned in more than 40 art museum books and magazines.
Just look at my website in the several portfolio's to find out please.
I love my 'passion' and looking further for branding my name in the artistic world like I'm doing already.
Would love to exhibit my work in …
'the whole world'
Article: (c) Source The Global Art Awards Article: 'THE GLOBAL ART AWARDS 2017 : Vincent Messelier' At the Global Art Awards website.